About RemeCure Silicone Get Sheets
RemeCure Silicone Gel Scar Dressing is a kind of soft, thin, reusable, and self-adhesive sheet. It is Made of Medical grade silicone and classified in Denmark medical agency as Medical Device class 1: 93/42/EEC
Mechanism of action
There are many mechanisms by which clinical studies have shown them to significantly impact the improvement of both hypertrophic and keloid scars.
SGS's (Silicone Gel Sheeting) ability to provide improved occlusion and hydration to the wound bed has been cited as its key physical mode of action in numerous studies. The physiological impact of improved occlusion and hydration on a developing scar is to provide the newly formed, underdeveloped stratum corneum aid in retaining optimum water levels. If the stratum corneum is dehydrated, it will signal to the keratinocytes in the epidermal skin layer to produce cytokines, which in turn signal fibroblasts to produce excessive amounts of collagen to aid water retention of the stratum corneum.
It is by this process that the undesirable attributes of a hypertrophic scar are developed, rather than that of normal skin. Whereas it was once considered that higher occlusion is better, newer studies have shown that too strong a moisture barrier can have a detrimental effect
Silicone Gel Sheeting (SGS) is known to stimulate the homeostasis of the stratum corneum. SGS, unlike other dressings, provide a level of occlusion similar to normal skin, which is thought to explain why cytokine and fibroblast activity and collagen formation are significantly reduced in SGS-treated scar and stratum corneum hydration is normalized. It is worth noting that the gentle removal of SGS compared with alternative adhesive sheeting also minimizes skin stripping of the newly formed stratum corneum, further contributing to its treatment potential.
The Mechanism Of Scar Formation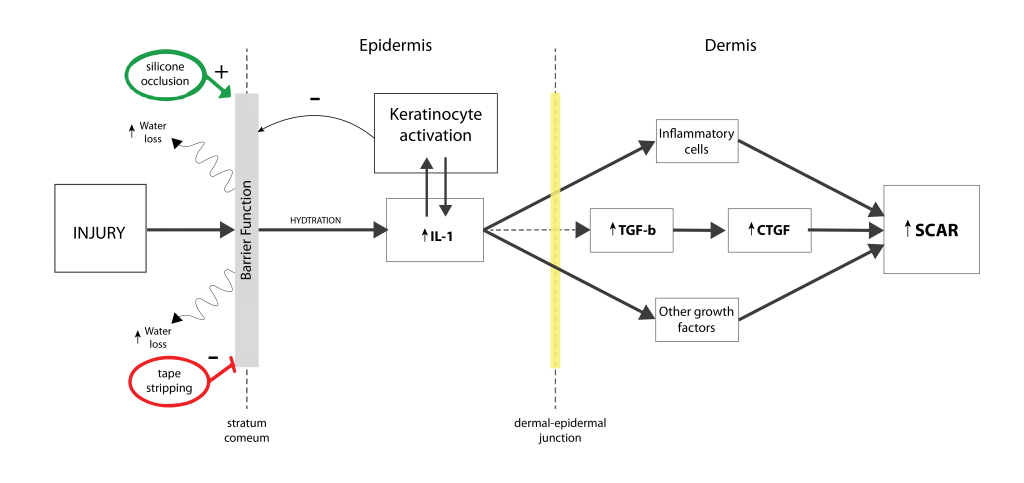 RemeCure Silicone sheet mechanism of action: showing how our Silicone gel sheet prevent/reduce the scar forming process.