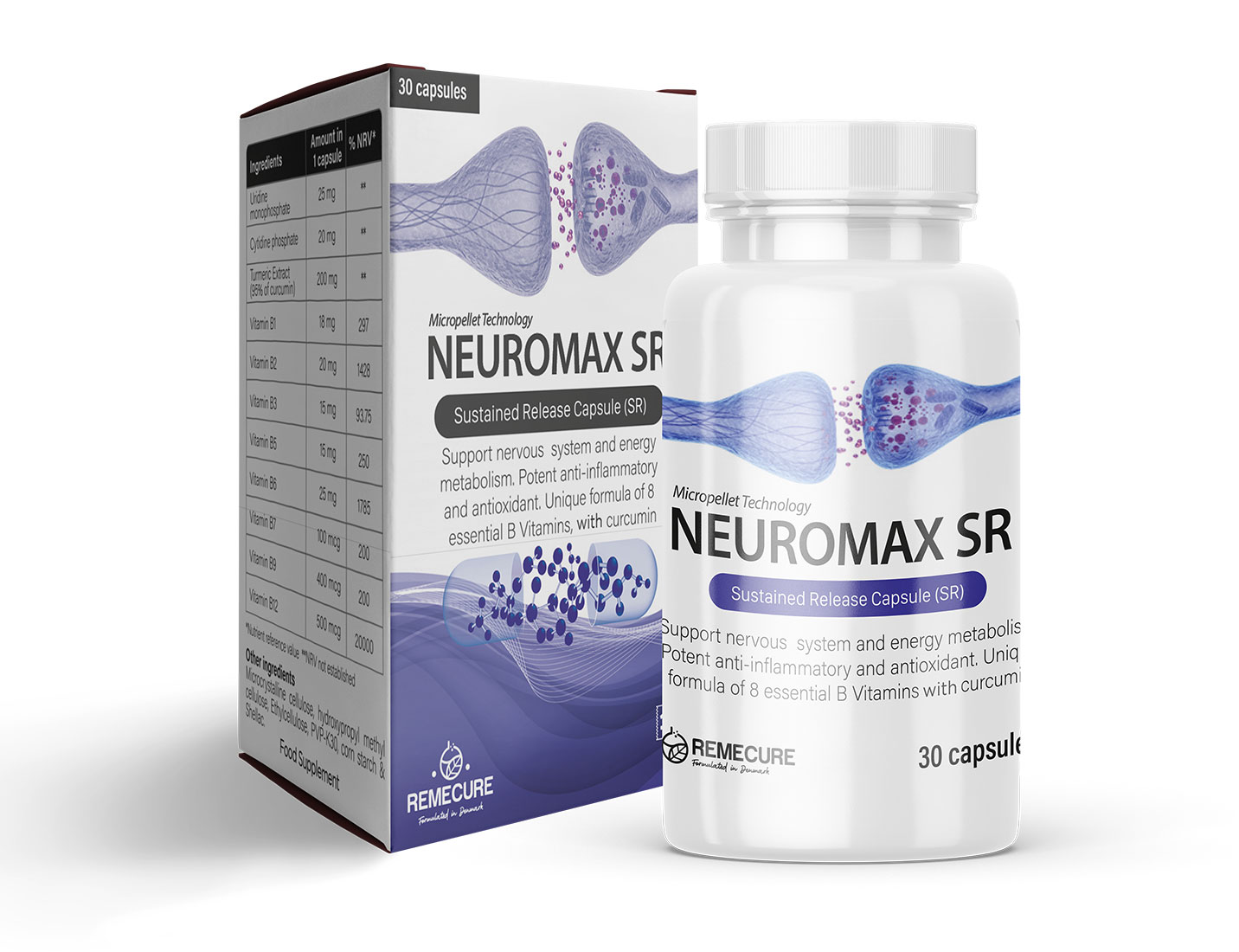 Neuromax SR
Category: Micro-Pellets
Tags: 8 essential B Vitamins, anti-inflammatory, antioxidant, backbone pain, capsule, curcumin, Cytidine phosphate, damaged nerve, energy metabolism, MICROPELLET TECHNOLOGY, neuralgia, polyneuropathy, Support nervous system, Sustained release pellets, Turmeric Extract (95% of curcumin), Uridine monophosphate, Vitamin B1, Vitamin B12, Vitamin B2, Vitamin B3, Vitamin B5, Vitamin B6, Vitamin B7, Vitamin B9
Description
Neuromax SR
Support nervous system and energy metabolism. Potent anti-inflammatory and antioxidant. Unique formula of 8 essential B Vitamins, UMP, CP and turmeric curcumin
Neuromax SR: Contains Uridine monophosphate, Cytidine phosphate, Turmeric extract (95% of curcumin) and B Vitamins (Vit. B1, B2, B3, B5, B6, B7, B9 and B12) in the form of sustained release capsule. This product is aimed for support of backbone pain, neuralgia, and polyneuropathy. This formula is developed with B group vitamins, UMP, CP and herbal extract (turmeric extract) which may take part in regeneration steps of damaged nerve.
Posology
It is recommended to take one Neuromax SR capsule daily, preferably with main meal. For adult use only.
Ingredients
Uridine monophosphate 25 mg
Cytidine phosphate 20 mg
Turmeric Extract (95% of curcumin) 200 mg
Vitamin B1 18 mg
Vitamin B2 20 mg
Vitamin B3 15 mg
Vitamin B5 15 mg
Vitamin B6 25 mg
Vitamin B7 100 mcg
Vitamin B9 400 mcg
Vitamin B12 500 mcg