Description
Magnesium is essential for proper muscle function, and acts to relieve tight, sore and cramped muscles.
It controls muscle contraction and acts as a muscle relaxant.
Calcium helps regulate muscle contraction.
Passionflower calms the nervous system, reduces anxiety, and soothes insomnia and muscle spasms.
Valerian root acts as muscle relaxant, reduces neck and shoulder tension.
Dosage: 2 – 3 capsules daily.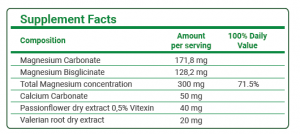 Every ingredient within this formula undergoes strict procedures and testing for banned substances prior to production under a monitored program.
Final products are then produced and packaged at an ISO, BRC, GMP, HALAL accredited lab to provide the highest level of assurance.